How IP Video Surveillance Meets the Rising Security Demands of Today
Newer technology is causing the camera technology to change too with importance shifting from having them in place to their resolution, availability and solutions they provide. With increases in resolutions and the processing going on in the cameras, video storage has become a fundamental part of the design of corporations.
IP Video Surveillance: Digitalization of the Camera
IP Video surveillance cameras are turning into essential micro servers and becoming a need for people all around various industries. They are becoming smart devices with higher resolution and greater sensors inside the camera. The cameras are also tasked with the greater amounts of processing being done, so digitization has proven to be a step forward. The traditional analog CCTVs are becoming obsolete with digital cameras taking over the world.
IP video surveillance is a digitized and networked version of closed-circuit television (CCTV). An IP camera is tasked with recording video footage and then delivering the content over an IP (Internet Protocol) network. These workings of an IP surveillance system tend to provide a clearer picture of the environment and offer a number of benefits with digitization. The traditional analog CCTVs have gone into the background with greater usage of these technologically advanced devices.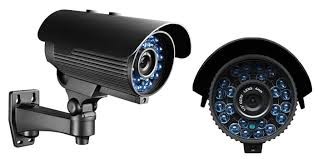 Ease of Use: Users have the ability to access their IP cameras from anywhere without a network setup or network attachment.
Cloud Access: IP security systems hosted in the cloud provide greater security, access and storage capacity. Users are not limited by restrictions of time and place.
Improved Search Capability: Cloud hosting allows for video surveillance to be run and backup 24/7 providing users access to video footage anytime. Moreover, it is not hosted on site so it is safe from vandalism and tampering; users are free from the stress of going through numerous video footage.
Better Quality Images: IP video surveillance results in greater quality of images.
Greater Workflow: IP videos surveillance gives users the ability to record and play simultaneously increasing the efficiency of work.
Improved Storage: Users are not limited in terms of storage space and can have greater storage as they desire. Unlike the traditional systems which required physical capital costs, IP video surveillance gives the ability to compress content in order to store greater data.
DNF Security: With our Surveillance as your Eyes, Nothing is in Disguise
Dynamic Network Factory was established in 1998 to provide the world with high performance of network attached storage, storage area networks, RAID and iSCSI systems. DNF Security is its subsidiary which is tasked with providing dependable, mission-critical video surveillance solutions. With emerging needs for managing and maintaining videos for legal and behavioral purposes, new and advanced technological video solutions are needed.
DNF security Video Management Systems (VMS) are designed to handle the complexities of physical security environments and video surveillance. DNF security is based around the needs of customers and provides the customers with innovative cutting-edge customer driven products.
Customer satisfaction is paramount to success. DNF security has had the experience of working with all kinds of customers ranging from small-to-medium businesses, government agencies, universities, hospitals, financial institutions, and Fortune 500 companies.
DNF security provides users with a range of video surveillance solutions inclusive of video management engines and mobile surveillance systems. Users are hence able to view, manage and control work from a remote location. The network can be used to see the videos from any camera connected to the network.
IP video storage goes hand to hand with IP video surveillance. This allows users to keep data for use later on. Moreover, it provides users with the ability to connect to email and other communications systems so that alerts can be sent automatically.
One of the greatest requirements of users is that of security. DNF security provides users with greater security with the usage of IP video surveillance over the traditional analog surveillance. It gives users greater ease of distribution. In case of occurrence of a crime, the image of the crime suspect can be easily distributed to the officials.
IP surveillance systems provide ease with dealing with all sorts of situations. People are moving towards systems which are easy to use and alongside provide the best outcomes as required. There is a growing industry trend towards replacing analog CCTV with IP surveillance systems.