Cloud Security Tools for Remediation and Response
We have two things that you can use in order for you to detect, assess, and remediate what you have in the cloud. So there are two components and sometimes it gets confusing. Sometimes people say, hey where do I use what / where?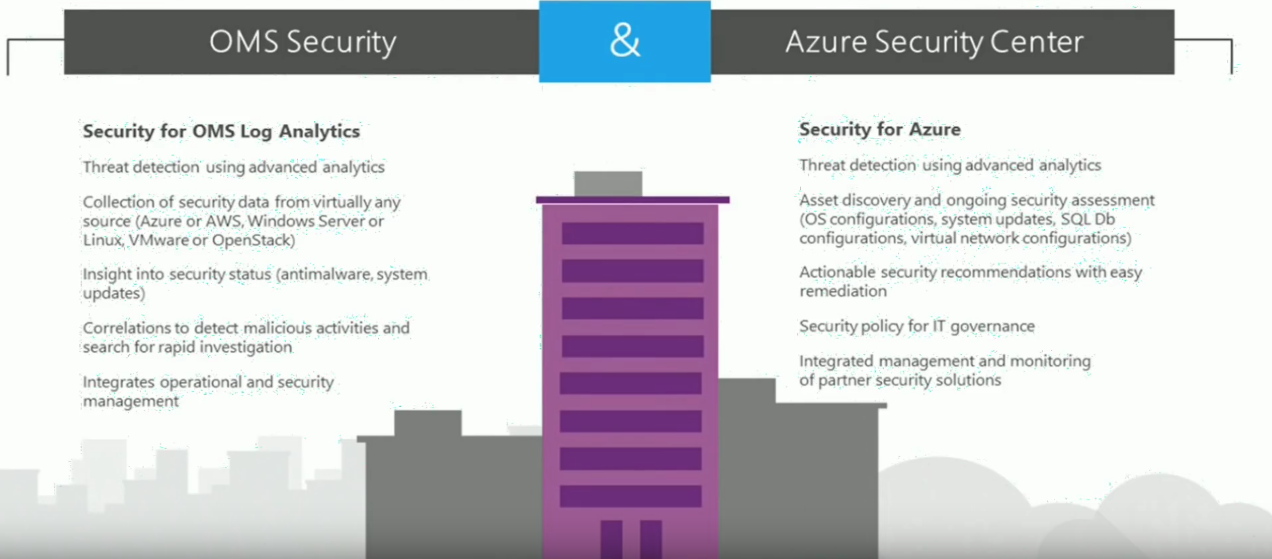 OMS Security and log analytics

. OMS Security and audit is primarily used for environments that are hybrid. So when you're looking at it, you're saying hey, "I have an environment on premise, I also have an environment in the cloud, so I have a hybrid environment". Whether it's running on AWS, whether it's running on Azure, whether it's running on premise, Windows server or Linux, VMware or OpenStack, this is where you have your hybrid security components. Basically a correlation to detect malicious activities and search for rapid investigation. It integrates operational and security management.
Azure Security Center

is primarily leveraged for Azure resources. So when you are looking at doing just security monitoring and security capability assessments and you just want that in Azure only, and you already have Azure VMs deployed, you have the ability to use Azure Security Center- An actionable security recommendations with easy remediation. It provides security policy for IT governance, and integrated management and monitoring of partner security solutions.
Is There a Reason to Use Azure Security Center When You Have OMS?
Yes, I'll tell you why. So when you turn on the Azure Security Center, a lot of the capabilities and the recommendations and the results that you get as a form of collecting that data comes out to be something that is actionable. OMS gives you threat intelligence, threat detection, notable issues, things like that, that you can find, that give you detection of your cloud environment.
Want new articles before they get published?
Subscribe to our Awesome Newsletter.